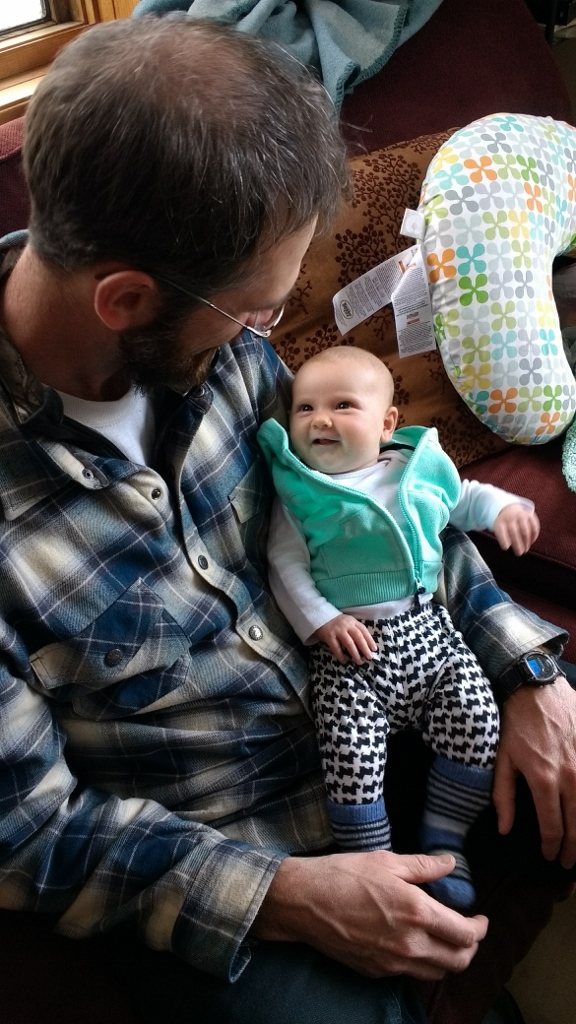 Goal 30: Children gain reasoning and critical thinking
BABIES MAY
Bang a block (or other object) on the floor repeatedly to hear the sound it makes.
Explore objects and materials in different ways (mouthing, reaching for, or hitting, banging, and squeezing them).
After repeated experiences with the same objects and persons, sometimes remembers that unseen objects are still there (remembering that a pacifier is under the blanket).
Shake different toys to see if they make a noise (stuffed animal, rattle).
YOU CAN
Provide baby with experiences and materials that demonstrate cause and effect relationships (places object on blanket, demonstrate to child how to pull blanket toward self to get the object).

Provide opportunities for child to examine his/her environment (point out different colors in the room, shake a variety of containers and toys).
---
Goal 31: Children find multiple solutions to questions, tasks, problems, and challenges
BABIES MAY
Reach for a toy or object that has rolled away.

Seek assistance from caregiver to solve a problem by using vocalizations, facial expressions, or gestures.
YOU CAN
Respond to a child's signals for assistance.
Provide different materials to engage child.
---
Goal 32: Children use symbols to represent objects
BABIES MAY
Locate an object that has been hidden from view.
YOU CAN
Play games with children that encourage object permanence (peek-a-boo, hide and seek).
---
Goal 33: Children can distinguish between fantasy and reality
BABIES MAY
YOU CAN
Make animal sounds with child while reading a book about animals.
---
Goal 34: Children demonstrate knowledge of numbers and counting
BABIES MAY
Understand the concept of "more" in
reference to food or play.
Hold two objects, one in each hand.
Gesture for "more" when eating.
YOU CAN
Provides activities that show "more" versus "less" (pouring water, grouping blocks).
---
Goal 35: Children demonstrate knowledge of measurement: size, volume, height, weight, and length
BABIES MAY
Explore the size and shape of objects through various means (banging, mouthing, dropping, etc.).

Explore volume as they wrap their fingers around an object or an adult's finger.
Explore weight as they pull a toy toward themselves.
Explore speed by moving hands or legs.
YOU CAN
Provide child with toys that have incremental sizes (nesting cups, stackable rings).
---
Goal 36: Children sort, classify, and organize objects
BABIES MAY
Classify informally as they recognize items as similar ("Things I can hold").

Explore the size and shape of objects (banging, mouthing, dropping, etc.).

Follow daily routines or patterns, such as being fed and then going to sleep.

Enjoy and begin to anticipate repetition, such as playing a peek-a-boo game or hearing a familiar song each time they are diapered.
YOU CAN
Provide child with objects in a variety of shapes, colors, and sizes (plastic containers, jar lids).
Create patterns for the day (diapering after naps, songs before bed, etc.).

Sing songs and read books that name colors or identify shapes and objects with similarities.
---
Goal 37: Children collect information through observation and manipulation
BABIES MAY
Turn head toward sounds or voices.
Explore objects by holding, mouthing, dropping, etc.
Observe objects in the environment
briefly.
YOU CAN
Show child self in mirror.
Offer toys within close range to grab and explore, provide padded surfaces.
Provide objects that invite exploration with multiple senses (rattle with bright colors and different textures).
---
Goal 38: Children make predictions and experiment
BABIES MAY
Investigate new phenomena (reaches out to touch rain).
Actively use one or more senses to explore the environment (touch, sight, smell, taste, hearing).
YOU CAN
Take child outside to play regularly.
---
Goal 39: Children observe and describe the natural world
BABIES MAY
Respond to plants, animals, and other people in the environment (reach for caregiver, grab a flower, point and squeal at a dog).
Observe sun and clouds.
YOU CAN
Provide opportunities for the child to observe living things.
Take child on walks, describe what you see.
---
Goal 40: Children differentiate between events that happen in the past, present, and future
BABIES MAY
Begin to show he/she expects familiar routines.

Recognize the beginning and end of an event (claps at the end of a song).
YOU CAN
Provide routines, talking about what happens before and after.
---
Goal 41: Children demonstrate awareness of location and spatial relationships
BABIES MAY
Explore the size and shape of objects through various means (banging, mouthing, dropping, etc.).
Explore the way objects move by tracking objects with their eyes and head.

Explore their spatial sense through movement, both involuntary and voluntary (being picked up, scooting, and pulling up).
YOU CAN
Provide a safe, child-proof environment.
Provide child with opportunities to experience different physical positions (floor time, carrying time).
---
Goal 42: Children demonstrate knowledge of the relationship among people, places and geography
BABIES MAY
Show caution around strangers or new events.
YOU CAN
Introduce baby to new people, places, and events at their own comfort level.
---
Goal 43: Children demonstrate awareness of economic concepts
BABIES MAY
Depend on others to provide for wants and needs.
YOU CAN
Respond to child's signals for assistance or socialization.
---
Goal 44: Children demonstrate awareness of the relationship between humans and the environment
BABIES MAY
Respond to familiar people and objects in a way that is different from the way they respond to unfamiliar people or objects.
YOU CAN
Include baby in regular social activities.
---
Goal 45: Children use technology appropriately
BABIES MAY
Use their bodies as "tools" (reaching out and grasping to get a rattle).
Show interest in technology (turns toward a ringing telephone or speakers where music is playing).
YOU CAN
Avoid use of TV, tablets, phones and other screens when babies are present.
Provide a child-proof environment.
---
Goal 46: Children use creative arts to express and represent what they know, think, believe, or feel
BABIES MAY
Attend to bright and/or contrasting colors.
Imitate by babbling during or after an adult sings or chants.
Move bodies with some intent and control.

Show curiosity and explore sensory materials; enjoy feeling various pleasing sensations and textures.

Use objects as tools to make sounds, (banging blocks together with adult help).
YOU CAN
Imitate and respond to child's sounds.
Provide visual and tactile textures for child to see and touch.
---
Goal 47: Children demonstrate understanding and appreciation of creative arts
BABIES MAY
Respond to music by listening and moving their heads, arms, and legs.
Make eye contact with singers.
Gaze at pictures, photographs, and mirror images.
YOU CAN
Expose child to a range of voice sounds (singing, speaking, humming).

Expose child to music from a variety of cultures and styles (jazz, rock, world beat, Latin, classical).

Show an enjoyment of music and participate in musical activities around child (sings, dances and moves to the beat).

Take walks with child and explore shapes in the immediate environment.
Comment aloud about interesting colors, pictures, or a nice view.
---