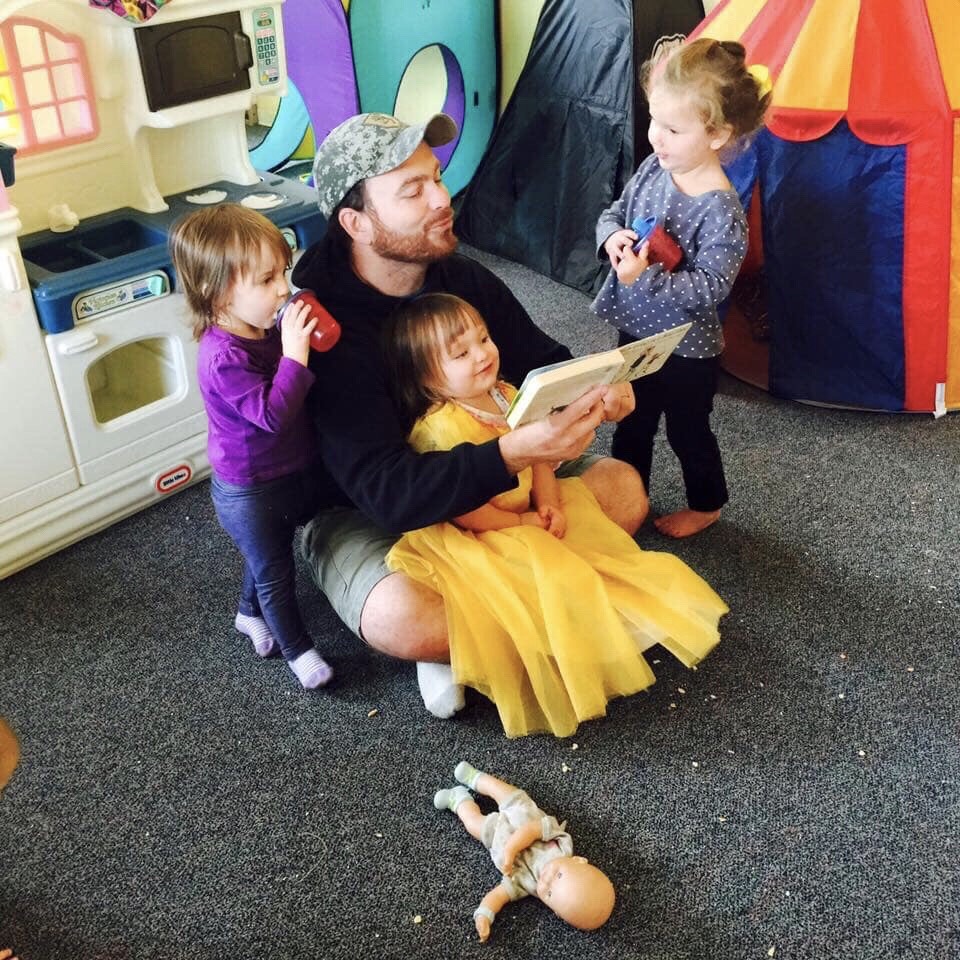 Goal 30: Children gain reasoning and critical thinking
MOBILE BABIES MAY
Show he/she understands cause-and-effect relationships (pushing on a toy truck and watching it roll away). Stacks and then knocks down towers and then stacks them up again.
Explore small openings and looks for items to put in the openings, including their fingers.
Remember where to find favorite toys, pacifier, blanket.
Show an understanding of object permanence, such as reaching under a blanket to retrieve a stuffed animal.
Use objects as intended (pushes buttons on toy phone, drinks from cup). Understand how familiar objects are used in combination (spoon in bowl, socks on feet).
Distinguish sounds and combinations of sounds.
Follow the edge of objects in space, such as a blanket, bed, or room.
Recognize different facial expressions.
YOU CAN
Demonstrate and explain the relationships between things ("If you throw your toy out of the crib, you can't reach it.").

Play turn-taking games with child (peek-a-boo).

Provide child with different toys and objects from a variety of cultures to examine, compare, and contrast.

Describe comparisons during playful interactions ("This pillow is soft, but your toy is hard").
---
Goal 31: Children find multiple solutions to questions, tasks, problems, and challenges
MOBILE BABIES MAY
Use objects as a means to an end (uses a bucket to transport blocks from one room to another, uses spoon to reach for food).

Solve simple problems independently (by climbing to retrieve an out-of-reach object).
YOU CAN
Encourage child to try new things in different ways (stack blocks of different shapes and sizes, trying different combinations, such as square blocks on bottom, then round blocks on bottom).

Compliment a child when he/she tries new things.
---
Goal 32: Children use symbols to represent objects
MOBILE BABIES MAY
Recognize people, animals, or objects in pictures or photographs.
YOU CAN
Model symbolic use of objects ("Drinks" from a toy cup).

Ensure that pictures and books have children who look like the child as well as children from other cultural groups.
---
Goal 33: Children can distinguish between fantasy and reality
MOBILE BABIES MAY
Begin make-believe play (rocking or feeding a baby doll).
YOU CAN
Expose child to fantasy stories and songs from a variety of cultures.
---
Goal 34: Children demonstrate knowledge of numbers and counting
MOBILE BABIES MAY
Use words or gestures for action phrases ("all gone" and "more").
Recognize there are one or two of something.

Demonstrate early one-to-one correspondence (filling containers with objects by dropping them in one at a time).

Usually choose a set that has more of something they prefer over a set that has less, when given the option.
Create larger and smaller sets of objects by grouping and ungrouping items (placing and removing rings on a vertical peg).
YOU CAN
Count objects in child's environment out loud.
Sing songs, tell stories, and read books with numbers and counting.
Provide number/numeral materials in child's environment (magnetic numbers, numbers on blocks, books).
---
Goal 35: Children demonstrate knowledge of measurement: size, volume, height, weight, and length
MOBILE BABIES MAY
Notice size differences (if large) between two objects (pointing to the bigger ball).

Use such words as "big" and "little" to differentiate sizes.

Explore relative size by trying to squeeze a large object into a smaller container (putting a doll into doll stroller and then trying to fit themselves into the stroller).
YOU CAN
Provide opportunities to develop an understanding of volume (filling and emptying).
Describe size, weight, and length of people, toys, and objects ("This is a big bowl. Will it hold more blocks than the little bowl?").
---
Goal 36: Children sort, classify, and organize objects
MOBILE BABIES MAY
Identify objects or creatures by recognizing their similarities (canines are "doggies"; all felines are "kitties").

Place similar objects with each other (putting all of the dolls in one pile and all of the cars in another).

Repeat some actions, such as filling and emptying containers.
Make patterns by repeating songs and rhymes.
Watch, bounce, or clap to rhythmic sounds or sing-alongs.
YOU CAN
Help teach children to sort ("Pick up all of the toys that are animals.").
Point to different patterns and identify them ("red, black, red, black...").
---
Goal 37: Children collect information through observation and manipulation
MOBILE BABIES MAY
Use more than one sense at a time (uses sight, touch, and hearing by examining and shaking a toy).
Use another object or person as a tool (expresses the desire to be picked up to reach something, use block to push buttons on a toy).
YOU CAN
Follow child's lead as he/she explores the environment.

Show how objects can be manipulated to make them different and/or more useful.
---
Goal 38: Children make predictions and experiment
MOBILE BABIES MAY
Express a sense of wonder about the natural world (reach for objects, put objects in mouth or rub on cheek, roll objects in hands, drop objects on floor).
YOU CAN
Explore objects and the environment together with child. Bring plants and animals into the environment for child to explore.
---
Goal 39: Children observe and describe the natural world
MOBILE BABIES MAY
Explore characteristics of certain living things (pick up an earthworm, try to catch ants).
Enjoy outdoor play.
Enjoy playing with water, sand and mud.
YOU CAN
Sing songs and reads books from a variety of cultures with child that describe plants and animals and how they grow and change.

Take child on field trips to observe and explore living things (farm, park, beach, fish hatchery).

Read non-fiction books and sing songs with child that describe the properties of the earth.
Help child explore dirt, sand, and water.
---
Goal 40: Children differentiate between events that happen in the past, present, and future
MOBILE BABIES MAY
Show anticipation for regularly scheduled daily events.
Recall information about the immediate past (after eating, says "All done!").
YOU CAN
Label events and routines (use time words such as today, tomorrow, next, later, yesterday).

Look at photo album or family videos with child.
---
Goal 41: Children demonstrate awareness of location and spatial relationships
---
MOBILE BABIES MAY
Explore how differently shaped objects fit or do not fit together (nesting cups or stacking cones).
Explore barriers to movement when not able to walk or push past something.
Explore their spatial sense (by bumping into things; squeezing into a tight space; or looking at an adult or a toy from a different angle, when bending over, or with head turned).
YOU CAN
Provide many opportunities for child to explore the environment.
Goal 42: Children demonstrate knowledge of the relationship among people, places and geography
MOBILE BABIES MAY
Recognize some familiar places (home, store, grandparents' house).
Know where favorite toys or foods are stored in own home.
YOU CAN
Describe what child sees and finds in the environment, such as local landforms or animals.

Describe the weather outside when walking or looking out the window together.
---
Goal 43: Children demonstrate awareness of economic concepts
MOBILE BABIES MAY
Depend on others to provide for wants and needs.
YOU CAN
Read books to child about different types of occupations.
Explain people's different jobs in context ("I'm going to work now.").
---
Goal 44: Children demonstrate awareness of the relationship between humans and the environment
MOBILE BABIES MAY
Point to, or in some other way indicates, familiar people and objects when they are named.

Express interest in nature (flowers, a breeze, snow).
Recognize trash as trash.
Know location of trash can and recycle bin, if available, in own home or learning setting.
YOU CAN
Provide child with regular outdoor play.
Show environmentally responsible behavior (not littering, picking up trash on a walk).
---
Goal 45: Children use technology appropriately
MOBILE BABIES MAY
Understand the use of people as "tools" for help (recognizing that an adult can reach an object for them on a high shelf),
Enjoy listening to music.
Enjoy using play technology objects (wind-up toy.)
Turn light switch on and off.
YOU CAN
Continue to discourage use of TV, tablets, phones and other screens.
Help child understand using "tools" (places object on blanket, demonstrates how to pull blanket toward self to get the object).
---
Goal 46: Children use creative arts to express and represent what they know, think, believe, or feel
MOBILE BABIES MAY
Recognize and associate a certain song or sound with a particular meaning (hearing a nap-time song and thinking that it's safe, secure, and time to nap).
Make loud noises just for fun, such as screaming or yelling.
Make movements and sounds in response to cues in songs and finger plays.
Use facial expressions, sound (vocalizations, clapping), and movement to encourage singers or music to continue.
YOU CAN
Offer daily musical activities, games, instruments, singing, and books.
Display the work of artists through prints, posters, paintings, and books from child's own and other cultural backgrounds.
Provide multiple opportunities for child to listen to music of all cultures and styles.
---
Goal 47: Children demonstrate understanding and appreciation of creative arts
BABIES MAY
Respond to music by listening and moving their heads, arms, and legs.
Make eye contact with singers.
Gaze at pictures, photographs, and mirror images.
YOU CAN
Expose child to a range of voice sounds (singing, speaking, humming).

Expose child to music from a variety of cultures and styles (jazz, rock, world beat, Latin, classical).

Show an enjoyment of music and participate in musical activities around child (sings, dances and moves to the beat).

Take walks with child and explore shapes in the immediate environment.
Comment aloud about interesting colors, pictures, or a nice view.
---